Diving & Other Things to Do Onsite and Nearby
At the Sunrise Resort in Hoodsport, WA you'll have several full days worth of entertainment at the beach including: kayaking, whale watching, crabbing & shrimping, fishing, boating, beach combing, hot tubbing, picnicing, BBQing, and of course SCUBA! If you're not too interested in water sports or beach activities, that's okay too. At the Sunrise or nearby, there is plenty of other things to keep you occupied. Also view our Nearby Things to Do page for more on area attractions.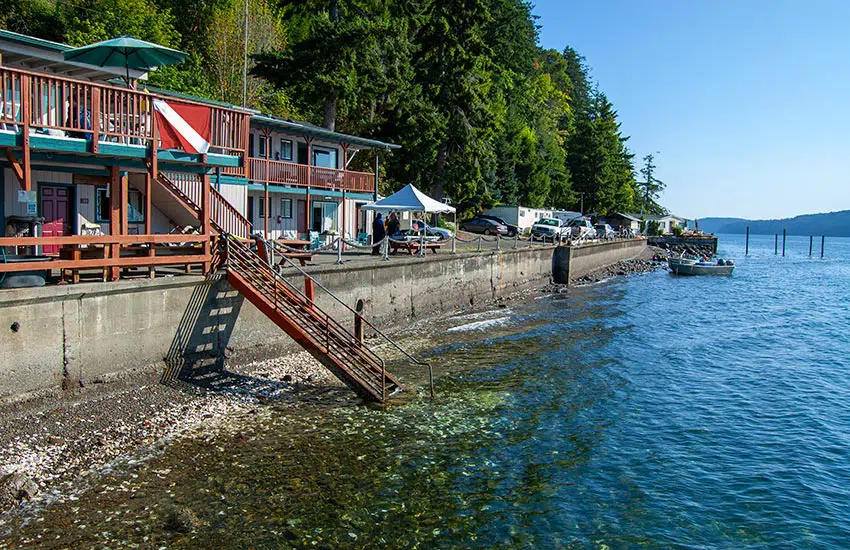 Boating
Boating enthusiast? Here at the Sunrise Resort there is a private dock system available. You can moor your boat or jet ski while you rest from your active day of water skiing, shrimping, or crabbing. Boat Moorage is $25 per day (up to 20'), there's room for your trailer too, parking $10 per day.
Fish, Crab, Shellfish
What better way to take in the natural beauty of Hood Canal than to spend a quiet afternoon fishing. No boat? No problem, there is great seasonal crabbing and fishing right off our docks! Enjoy area oyster and clam gathering year round, and coho and chinook salmon fishing in the fall. View Fishing License Information.
Relax at the Resort!
There's no need to even leave the resort! Everything needed for a relaxing day on the waters of Hood Canal is just steps away. Beach comb, swim or play in the water, then BBQ some lunch and enjoy a beach picnic. Afterwards, relax in the waterfront hot tub.
SCUBA!
Hood Canal is a SCUBA diver's playground known for gentle currents and interesting rock formations, and plentiful sea life. Dive with giant Pacific octopuses, wolf eels, rockfish, and plumose anemones that live in the canal's clear waters. Water temperature averages from a low of 45 degrees in the winter to 50-60 degrees in the summer. Here at Sunrise Resort, we take pride in providing a facility that meets all the needs of divers. From our easy access staircase right into the water, to gear clean off tanks, outdoor diver's shower, and tank refill service.