Hoodsport welcomes new Sunrise owners!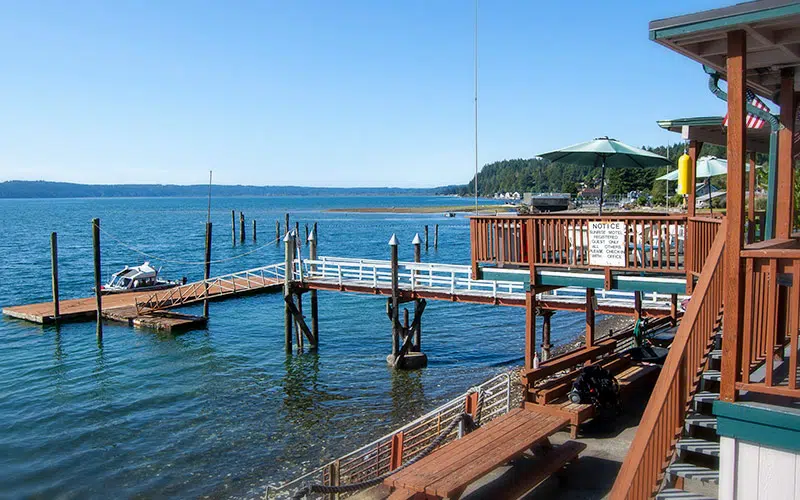 The Sunrise Motel and Dive Resort, a charming waterfront destination in Hoodsport, has new owners after 30 years. Shawn Benson, a long-time diver and general contractor, and his wife Diana have plans to upgrade the interior and exterior, rebuild the dock, and create a quiet, clean, friendly atmosphere. The property is unique with more than 700' of pristine waterfront, fantastic beach access, and amazing views for all to enjoy.
The resort has a new name, the Sunrise Resort on Hood Canal, plus a new logo and website to showcase all the resort has to offer. Shawn and Diana have started with simple improvements like new bedding, dishes, patio furniture and restoring the expansive dock. The new website and online reservation system launched this summer, and plans are underway for improving the open space areas and parking. Recently, the Bensons hired professionals to work with state and local officials for design and permitting to further improve the resort and add additional amenities. In the fall, after the busier summer season, cosmetic renovations will begin to prepare for next spring.
Shawn is a scuba diver and general contractor out of Olympia. He grew up in a military family and became a certified diver over 30 years ago, diving in pristine open waters with his dad, brother and brother in law. He's enjoyed diving the Great Barrier Reef, the Caymans, US Virgin Islands, Mexico, Hawaii and right here in the beautiful Pacific Northwest.
His wife Diana grew up in Washington and loves the water. She's excited to be updating the Sunrise Resort to a place where families can vacation, play on the dock, relax on the beach, and spend quality time together.
This gem on the Hood Canal was built as a premier waterfront resort back in the 50s, and the Bensons feel honored to have this opportunity to transform it back for visitors, family and friends. As the gateway to spectacular hiking in the Olympic National Forest, and home to the best diving in the Pacific Northwest, Hood Canal continues to be the perfect place to watch their dream unfold.
For Shawn and Diana, and guests alike, this waterfront Hood Canal resort is the perfect place for relaxation and adventure. Join them this summer, Book Today, there's already been fabulous upgrades to their rooms and waterfront, and they can't wait to show what's more to come!